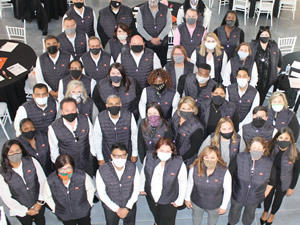 Paragon Hotel Company hosted it's bi-annual Leadership Conference, bringing together the company's General Managers and Directors of Sales, safely, during the Covid-19 global pandemic.
The conference was held at the Edgewood Farm in Townville, SC, allowing the attendees to spread out for proper social distancing while receiving support and encouragement after possibly going through the worst time in the history of the hospitality industry. The theme of this year's conference centered around the need to RE-FOCUS, RE-TOOL, and RE-BOUND as a hospitality company. The PHC leaders were able to come together safely to receive corporate appreciation to them for their hard work during the pandemic. Corporate leaders stressed to the group that PHC would not have been able to survive without them and the support they gave to each of their staff members. This time together was essential to openly communicate, learn from each other, and most of all strengthen relationships. Corporate leaders presenting during the conference included Mitesh Patel, Paragon Hotel Company President, Mike Swanigan, Senior Vice President of Operations, Brad Marsico, Vice President of Sales, Marketing, and Revenue Management, Amulya Singh, Regional Director of Operations, Cindy Suttles, Regional Director of Operations, and Shera Patel, Director of People & Culture. PHC Chairman, Ricky Patel was also in attendance.
About Paragon Hotel Company
Founded in 1995, PHC is a hospitality real estate management and development company based in Anderson, SC. The company manages more than 20 hotels in South Carolina, North Carolina, Georgia, and Virginia, with several other sites in the development stage. The company's vision, "constantly challenging the status quo," complements its mission to acquire, develop and manage a portfolio of unique properties and lifestyle experiences for the enjoyment of our guests, while delivering exceptional financial results to investors and positively impacting the surrounding communities.