Downtown Anderson Project Announced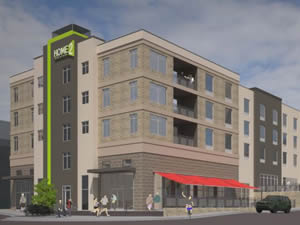 Paragon Hotel Company in conjunction with Steve Timmons and Anderson city and county officials has announced plans for a $12 million hotel to be built in the heart of downtown Anderson, SC.
The hotel brand is slated to be the popular, eco-friendly Home2 Suites by Hilton, offering flexible room configurations and inspired amenities for guests. Home2 Suites features separate sleeping and living spaces with studio and one-bedroom suites, all designed for stays from one night, one week, or more. Their eco-friendly pools are saltwater, chemical-free, and maintained with natural minerals, perfect for family fun and safe for the environment. BBQ's and fire pits are just some of the outside amenities with the pet friendly Home2 Suites. Indoors you will find the combined fitness and laundry facility great for extended stay.
Anderson city/county officials say that Paragon Hotel Company's new development will serve as a milestone in downtown Anderson's revitalization by attracting more visitors and providing a spark for more development in the downtown area.
The multi-story hotel will be located near Anderson's South Main and East Market streets and will include at least 90 rooms, ground-floor space for a restaurant and retail store, conference and meeting rooms, a fitness center, swimming pool and outdoor patio. The hotel is expected to have about 25 employees and has an opening projected for 2021.
About Paragon Hotel Company
Paragon Hotel Company's founder and chairman, Ricky Patel, launched his management career in hospitality in 1984 in Meridian, MS. Paragon Hotel Company, based in Anderson, SC, built its first hotel in the county in 1991 and now manages more than 20 hotels in South Carolina, North Carolina, Georgia, and Virginia, with several other sites in the development stage. The company's vision, "constantly challenging the status quo," complements its mission to acquire, develop and manage a portfolio of unique properties and lifestyle experiences for the enjoyment of our guests, while delivering exceptional financial results to investors and positively impacting the surrounding communities.
About Steve Timmons
Timmons has more than 30 years of experience in the Greenville real estate market. He also has helped develop townhomes near Anderson University and a subdivision in Anderson.