Hilton's Conrad Achievement Award Goes to Paragon Hotel Company Property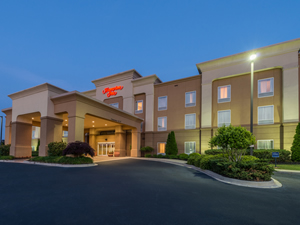 Paragon Hotel Company announces that its Hampton Inn, Easley, South Carolina, has received the prestigious Conrad Achievement Award from the Hilton Hotels Corporation.
This award goes to the top 5% of the brand. PHC's Hampton Inn located on Southern Center Court in Easley, SC was actually in the top 2% since they were #23 out of 1,326 Hampton Inns worldwide. The leadership and dedication from this staff led by General Manager, Dean Andrews, is truly remarkable! Additionally, Dean Andrews celebrates 25 years with Paragon Hotel Company in 2020 which is remarkable in itself.
PHC's Easley, SC Hampton Inn offers 81 rooms and employs 15 associates.
About Paragon Hotel Company
Founded in 1995, PHC is a hospitality real estate management and development company based in Anderson, SC. The company manages more than 20 hotels in South Carolina, North Carolina, Georgia, and Virginia, with several other sites in the development stage. The company's vision, "constantly challenging the status quo," complements its mission to acquire, develop and manage a portfolio of unique properties and lifestyle experiences for the enjoyment of our guests, while delivering exceptional financial results to investors and positively impacting the surrounding communities.