Holiday Inn Express and Suites Opens in Rock Hill, SC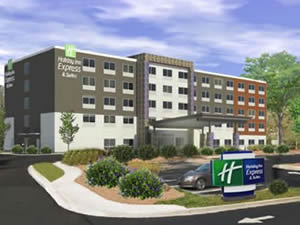 Mar 25, 2021 ROCK HILL, SC. – Paragon Hotel Company is proud to announce the opening of Holiday Inn Express and Suites-Rock Hill, SC located at 680 Tinsley Way, Rock Hill, SC 29730. The beautiful 92 room hotel features upscale, stylish décor that offers flexibility, while creating a unique environment. Holiday Inn Express and Suites properties are designed to allow guests to spread out and enjoy their stay. Guests can choose from the hotel's upgraded suites to enjoy a relaxing and productive stay while in Rock Hill, SC. Splashes of color are brought to life inside the hotel through the design by Paragon Hotel Company. Whether productivity or relaxation is their top priority, guests will find modern features such as the suite's large, well-lit work desk, ergonomic chair, and complimentary high-speed internet access. Designed for both business-minded or leisure stays, each room has functional workspace or space to simply spread out. All rooms include a coffeemaker, microwave oven, and refrigerator. Extending the feeling of comfortable living on the road, Holiday Inn Express and Suites-Rock Hill, SC offers guests inviting and functional public spaces to relax or collaborate. Road warriors and families alike enjoy the, complimentary Wi-Fi, 24-hour onsite food and beverage market (The Pantry), dry cleaning services, outdoor pool, fitness center, and onsite guest laundry room. The hotel has a business center where guests can fax, copy, and print materials. The hotel also has a 900 sq ft meeting room with the ability to seat 40 people comfortably. Holiday Inn Express and Suites-Rock Hill, SC is less than 3 miles to Downtown Rock Hill, SC (home to Winthrop University), 5 miles to Fort Mill, SC, 15 miles to Pineville/Ballantyne, NC and 20 miles to Charlotte, NC.
Convenient to downtown Rock Hill and Fort Mill, SC and to many shops and restaurants, the hotel site is also convenient to I-77 allowing guests easy access to Columbia, SC and Charlotte, NC. Guests choosing the Holiday Inn Express and Suites-Rock Hill, SC will be able to access nearby manufacturing facilities, businesses, as well as all conveniences that the area has to offer.
General Manager Shailin Suthar and Director of Sales Wendy Socias lead the team with over 30 years of combined hospitality experience and are excited to welcome guests and the community to the new property. "Our team is so excited to provide a new option for our Rock Hill, SC travelers. Whether our guests are here to visit students at Winthrop university, area businesses, or here for a child's sporting event, we offer everything they need to make them feel at home. Our guests will be able to enjoy everything the area has to offer," said Suthar.
"We are very excited to add another hotel to the Rock Hill, SC community. Holiday Inn Express and Suites is the perfect complement to the area. Our excellent and accessible location will allow guests the conveniences of what this area has to offer," said Mitesh Patel, Paragon Hotel Company President. "It's been rewarding for us to be an integral part of the development of this community."
Holiday Inn Express and Suites-Rock Hill, SC is located at 680 Tinsley Way, Rock Hill, SC 29730. For more information or reservations, call Holiday Inn Express and Suites at (803) 630-8452 or visit
Holiday Inn Express Rock Hill
ABOUT PARAGON HOTEL COMPANY
Paragon Hotel Company is a hotel management company with more than 30 years of development, investment, acquisition, and asset management experience. The corporate office is in Anderson, SC, Paragon Hotel Company specializes in full-service, select-service and extended stay hotels, in South Carolina, North Carolina, Georgia, and Virginia. The company's hospitality portfolio features major brands (Marriott, Hilton, IHG, and Wyndham). Since 1995, Paragon Hotel Company has been involved in the development, ownership, asset management, repositioning and renovation of over 20+ hotels with more than 2,000 hotel rooms. To learn more, visit www.phc-hotels.com
ABOUT HOLIDAY INN EXPRESS AND SUITES
Already one of the largest and fastest-growing names in the surging limited-service hotel segment, the Holiday Inn Express® brand knows limited service should never feel limiting. Guests have the choice of nearly 2800 locations worldwide. With nearly 50% of new locations developed as new builds, the brand is seeing significant momentum with its new Formula Blue™ design solution. Co-created with hotel owners and incorporating guest insights, Formula Blue: Smart Design for Smart Travel was developed to drive the quality and consistency guests expect at the best value for owners. Built for price-conscious travelers as a simple and smart launchpad for their leisure and travel needs complete with modern finishes, value-rich essentials such as complimentary hot, fresh breakfast. Holiday Inn Express and Suites is committed to deliver more where it matters most.