Homewood Suites Lynchburg, Virginia Opens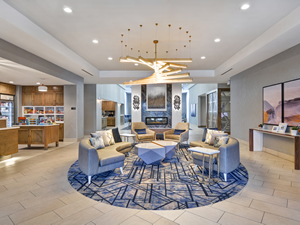 A new hotel has come to Lynchburg, VA. Opening announced today by Paragon Hotel Company, based in Anderson, SC. The new Homewood Suites, a Hilton property, is located on Wards Road in Lynchburg, VA and is the second holding in Lynchburg for PHC. The Homewood Suites joins PHC's Hilton Garden Inn, also on Wards Road in Lynchburg, VA.
Hilton says the Homewood brand delivers the comforts of home with the added conveniences of a hotel, whether you have come to stay 2 nights or 2 weeks. Apartment-style living is showcased in the separate living spaces designed to let you live, work, and relax. A full kitchen, featured in each suite, includes full-size refrigerator, dishwasher, microwave, and stove top, all with the added convenience of free grocery shopping – delivering fresh ingredients right to your door. Complimentary amenities include breakfast, pool, WiFi and 24-hour fitness center.
The Homewood Suites, Lynchburg, VA offers 98 rooms and employs 20 associates.
About Paragon Hotel Company
Founded in 1995, PHC is a hospitality real estate management and development company based in Anderson, SC. The company manages more than 20 hotels in South Carolina, North Carolina, Georgia, and Virginia, with several other sites in the development stage. The company's vision, "constantly challenging the status quo," complements its mission to acquire, develop and manage a portfolio of unique properties and lifestyle experiences for the enjoyment of our guests, while delivering exceptional financial results to investors and positively impacting the surrounding communities.