Paragon Associates Recognized for Excellence in 2017 Awards Ceremony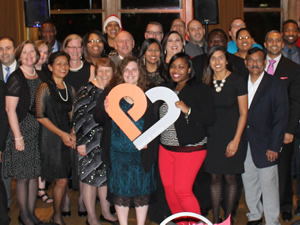 ANDERSON, S.C. – Recognition arrived in spades for Paragon Hotel Co.'s "Game of Hearts" recipients at the company's 2017 awards ceremony, spotlighting associates' exceptional service and performance, creativity, innovation, teamwork and their embodiment of PHC's brand culture.
Announced at the company's December conference in Asheville, the winners are:
General Manager of the Year: Dean Andrews Jr. manages the Hampton Inn Easley, which ranks No. 1 of four hotels in Easley, pulling in 4.5 out of 5 stars on TripAdvisor with more than 250 "Excellent" ratings and a TripAdvisor Certificate of Excellence.
Hotel of the Year: DoubleTree by Hilton Winston-Salem – University, which earned a TripAdvisor Certificate of Excellence in 2017, was named Paragon's top property, under the leadership of Josh Rubio.
2017 Sales Superstar: Dawn Donatelli, at Paragon Greenville Collection, was recognized for her "inventive vision of 'out-of-the-box' sales approaches and creative actions yielding impressive results."
2017 King/Queen of Shine Award: Katherine Dutton, a Rooms Dept. leader at Hampton Inn Easley, showed an "exceptionally high level of personal commitment each and every day," motivating her team, fostering engagement, inspiring leadership, and diligence in ensuring outstanding guest experiences.
2017 Titan of Troubleshooting: Randy Bohl not only manages general and preventative maintenance at Holiday Inn Anderson, he also helps provide excellent guest service while creating high-quality sustainability standards throughout the property.
2017 Pineapple Service Award: Brandon Brodie took home the prize that symbolizes generosity and hospitality to travelers. Also an associate at DoubleTree by Hilton Winston-Salem – University, he embodies the award that is a "celebration of our pride in service and recognizes the one individual who has gone above and beyond what is expected to enrich a visitor's stay at any one of our hotels."
2017 Guest Service Champion: Etienne Woolridge displays an "inherent spirit to serve and lead the hotel front of house staff." Demonstrating "confident service skills," he finds "ways to go above and beyond for the team by delivering on guest and associate promises, embodying the brand culture, focused on the guests' needs at all times," and achieving a high standard of excellence.
For more information about Paragon Hotel Company, visit http://www.phc-hotels.com.
About Paragon Hotel Company
Founded in 1995, PHC is a hospitality real estate management and development company based in Anderson, SC. The company's vision, "constantly challenging the status quo," complements its mission to acquire, develop and manage a portfolio of unique properties and lifestyle experiences for the enjoyment of its guests, while delivering exceptional financial results to investors and positively impacting the surrounding communities. The company's portfolio of more than 2,300 rooms in North Carolina, South Carolina, Georgia, Virginia, and Tennessee includes hotels within Hilton, Marriott, Intercontinental Hotels Group, Choice Hotels, Carlson Rezidor Group, and Wyndham Worldwide franchises.