Paragon Hotel Company Breaks Ground on Homewood Suites in Lynchburg, VA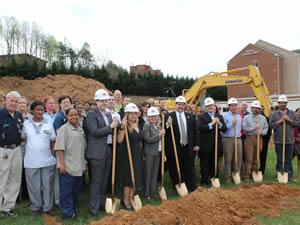 LYNCHBURG, VA. – More than two dozen people dug in to help Paragon Hotel Co. break ground for its new Homewood Suites hotel, which joins the Hilton Worldwide family that J.D. Power & Associations ranks "Highest in Guest Satisfaction Among Upper Extend Stay Hotel Chains."
The 97-room, four-story hotel also joins the Paragon Hotel Co.'s family of 19 properties, including one just across the street, the Hilton Garden Inn. PHC executives and associates, along with members of the Lynchburg Business Alliance, attended the March 31 groundbreaking at 4025 Wards Road, just off U.S. Bus. 29.
Also among the participants was Coleman-Adams Construction Inc., an Alliance member and the General Contractor selected to build PHC's newest project. Coleman-Adams, established in 1971, is one of the oldest and most respected construction firms in central Virginia, with roots going back five generations. ISOM Ham Design Group, based in Wilkesboro, N.C., is the architect.
"The groundbreaking event was a huge success, drawing a far larger crowd than we had anticipated," says Mitesh Patel, President of the Anderson, S.C.-based PHC, whose subsidiary, AMD Hotel Group, LLC, is responsible for the hotel's construction and management. "That alone shows how much excitement this property is generating, not just for Paragon Hotel Co., but for Lynchburg and for the investment we're making in the community."
PHC's new Homewood Suites and its sister hotel are ideally located in this central Virginia city that Thomas Jefferson once called "the most interesting spot in the state," in the shadow of the Blue Ridge Mountains. Just minutes from Lynchburg's historic downtown on the banks of the James River, the new hotel is close to numerous colleges and universities, as well as great dining, shopping and entertainment choices. Lynchburg Regional Airport is less than two miles away, perfect for executive travelers.
With construction expected to be completed in summer 2017, the new hotel will feature all-suite accommodations. This Homewood Suites will bring guests the comforts of home and the convenience of the office. The suites will include a full kitchen, hot full breakfast daily, evening dinner and drinks Monday – Thursday, business center and high-speed internet access to keep guests comfortable and connected.
About Paragon Hotel Company
Founded in 1995, PHC is a hospitality real estate management and development company based in Anderson, SC. The company's vision, "constantly challenging the status quo," complements its mission to acquire, develop and manage a portfolio of unique properties and lifestyle experiences for the enjoyment of our guests, while delivering exceptional financial results to investors and positively impacting the surrounding communities. The company's portfolio of more than 2,100 rooms in South Carolina, Georgia, Virginia and Tennessee includes hotels within Hilton, Marriott, Intercontinental, Best Western, Choice, Carlson Hotels Worldwide and Wyndham Worldwide franchises.