Paragon Hotel Company Donates Bottled Water for Flood Victims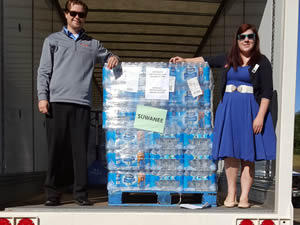 COLUMBIA, S.C. – With hundreds of thousands of Richland County residents under a boil-water advisory days after the historic Oct. 3-4 flooding that ravaged the Midlands, Comfort Suites at Harbison and its parent company, Paragon Hotel Company, have donated 10,000 bottles of water.
Paragon Hotel Company and the Comfort Suites, 750 Saturn Parkway, delivered pallets of bottled water on Oct. 7 to Columbia, where nearly 17 inches of rain fell in 17 hours over the weekend. The hotel, just off Interstate 26, which leads to the heart of the state capital, is only 9.6 miles from the convention center.
"We are more than just a business doing business in the community," says Mitesh Patel, president of the Anderson, S.C.-based Paragon Hotel Company. "We are neighbors, we're part of the family here, and neighbors and family members help each other, especially when it comes to providing something as essential as potable water."
"Nobody should have to deal with a disaster like this alone," says Comfort Suites manager Ben Creasy, noting that South Carolina Gov. Nikki Haley called the Midlands rains the worst in a millennium. "When you're not sitting on the sidelines during a tragedy, you can't sit on the sidelines after it."
While the torrential downpours appear to be abating, flood- and rain-weary residents here continue to face myriad problems, from the destruction of hundreds of bridges and roads to the precarious stability of area dams that have forced thousands of residents to evacuate their homes.
"It's tragic that we got hit with so much water," Ben Creasy says, "and, yet, it's clean, safe drinking water that people here need so badly. On behalf of our hotel and the parent company, Paragon Hotel Company we're happy we can help."
For more information about Paragon Hotel Company, visit http://www.phc-hotels.com.
About Paragon Hotel Company
Founded in 1995, PHC is a hospitality real estate management and development company based in Anderson, SC. The company's vision, "constantly challenging the status quo," complements its mission to acquire, develop and manage a portfolio of unique properties and lifestyle experiences for the enjoyment of our guests, while delivering exceptional financial results to investors and positively impacting the surrounding communities. The company's portfolio of more than 2,100 rooms in South Carolina, Georgia, Virginia and Tennessee includes hotels within Hilton, Marriott, Intercontinental, Best Western, Choice, Carlson Hotels Worldwide and Wyndham Worldwide franchises.