Paragon Hotel Company Hosts Police Appreciation Breakfast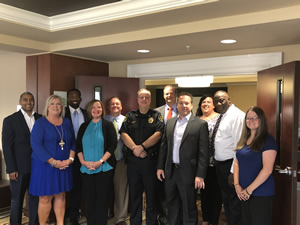 ANDERSON, S.C. – Paragon Hotel Company hosted an Appreciation Breakfast for the Anderson City Police Department on July 25th at the Holiday Inn, 3509 Clemson Boulevard. The purpose for the event was to strengthen and enrich relationships between law enforcement and the community.
"It was our pleasure to serve Anderson's finest," Mitesh Patel, president of Paragon Hotel Company said of the event. Anderson's mayor, Terrence Roberts was also in attendance, as well as Mike Swanigan, Senior Vice President of Paragon Hotel Company, along with other officials of the corporation. Mayor Roberts and Mike Swanigan spoke to the officers, each thanking them for their service to our community.
Police Chief Jim Stewart and approximately 75 officers were treated to a delicious breakfast before completing a training session on the mandated implementation of upcoming e-tickets. Patrol and Traffic officers will soon be able to issue e-tickets from their laptops and printers located inside their patrol vehicles for criminal and traffic violations.
"We wanted to give back to our police officers," Swanigan said after the event. "We appreciate what each officer does to keep our community safe. We were happy to have this opportunity to serve those who selflessly serve our city."
For more information about Paragon Hotel Company, visit http://www.phc-hotels.com.
About Paragon Hotel Company
Founded in 1995, PHC is a hospitality real estate management and development company based in Anderson, SC. The company's vision, "constantly challenging the status quo," complements its mission to acquire, develop and manage a portfolio of unique properties and lifestyle experiences for the enjoyment of its guests, while delivering exceptional financial results to investors and positively impacting the surrounding communities. The company's portfolio of more than 2,300 rooms in North Carolina, South Carolina, Georgia, Virginia, and Tennessee includes hotels within Hilton, Marriott, Intercontinental Hotels Group, Choice Hotels, Carlson Rezidor Group, and Wyndham Worldwide franchises.