Three Grand Openings in One Month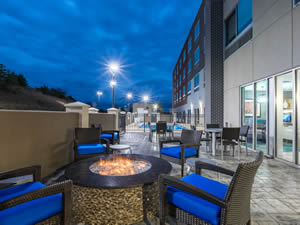 Paragon Hotel Company, based in Anderson, SC, has experienced something rare, three grand openings within one month! The three new PHC properties to host grand opening festivities were the Holiday Inn Express & Suites in Piedmont, SC located on Hwy 153 near the I-85 interchange, the Holiday Inn Express & Suites in Gainesville, GA located on Dawsonville Hwy in the Lake Lanier area, and the Hilton Garden Inn located in Lynchburg, VA on Wards Road.
IHG's Holiday Inn Express & Suites brand brings a clean, consistent, and comfortable stay at more than 2,700 locations. Amenities include breakfast, business/work desk area in each room, swimming pools, comfortable beds, and everything you will need to have a peaceful and relaxing stay.
The Hilton Garden Inn line of Hilton's properties is touted as the laid-back sophisticated brand offering heartfelt service and award-winning amenities. The HGI line offers plenty of natural light and space with wide windows to let the sunshine in. Each room is set up with free WiFi and free coffee is available in the lobby. Breakfast is cooked to order, afternoon snacks and evening cocktails at the bar will round out your day.
The Holiday Inn Express & Suites in Piedmont, SC offers 78 rooms and employs 15 associates while the Holiday Inn Express & Suites in Gainesville boasts 94 rooms and 20 associates. In Lynchburg, VA, the newly opened Hilton Garden Inn offers 126 rooms and employs nearly 30 associates.
About Paragon Hotel Company
Founded in 1995, PHC is a hospitality real estate management and development company based in Anderson, SC. The company manages more than 20 hotels in South Carolina, North Carolina, Georgia, and Virginia, with several other sites in the development stage. The company's vision, "constantly challenging the status quo," complements its mission to acquire, develop and manage a portfolio of unique properties and lifestyle experiences for the enjoyment of our guests, while delivering exceptional financial results to investors and positively impacting the surrounding communities.